Choosing a wedding dress is not a basic thing to decide over, it is about deciding what you are going to wear on one of the most important days in your life. The bridal gown is more than we think. It shows who you are, what is your style, what makes you feel more beautiful than ever. Thankfully, there are a lot of options but sometimes it can make you feel uncertain. But if you want to have a gorgeous bridal gown which reflects the touches of the past, we recommend you choose a vintage wedding dress.
Vintage wedding dresses have become so popular again nowadays. Its marketing is wide and it is much more stylish than other bridal gowns but the main reason why it became so popular again is that people are missing the good old days, we are longing for it. So, bringing this nostalgia back on your wedding day, even for one night, is a way to please this longing.
Why Should You Choose A Vintage Wedding Dress?
The time has come, you are going to marry the love of your life and you want to look so magnificent while it is happening. You want him and the whole guests to admire you in your beautiful wedding dress. You want to pick a vintage wedding dress while walking down the aisle. Maybe you get questions like "Why do you want to wear a wedding dress while there are plenty of other options?" Because at weddings, people don't really expect to see the bride wearing a wedding dress that we call "vintage". But even though it is different, it is very hard to dislike the dress in this situation because vintage wedding dresses have their beauty from their uniqueness and their simplicity. As soon as you start to walk down the aisle, people cannot stop it taking them from today's modern world to a different world maybe we have never been before. The feeling that vintage wedding dresses are giving us is a kind of different experience. It feels like we are in serenity with the familiar feeling of the old world. With the sweet nostalgia it is giving to us, there are other reasons why people choose vintage wedding dresses on their most special day.
A. Its Uniqueness
We can say that the wedding dresses have their own uniqueness in their own way. But the vintage wedding dresses are something different. With the touch of the past, they come in various types. The most common thing to separate vintage dresses to other dresses is that they are not bright white like we are used to. They are usually off-white, especially if they are literally old wedding dresses. But the uniqueness of them is not limited to their color. Sometimes, they have classic A-line gowns, a lot of lace details with sheer sleeves. Sometimes, they are totally different from what we expect from a classic wedding dress. They are short, or they have scalloped lace neckline, or they can even be two-pieced. It is obvious that these kinds of bridal gowns can be very unique apart from the modern bridal gowns.
B. Its Simplicity
In this modern world, we are seeing a lot of beautiful wedding dresses around. Those modern wedding dresses usually contain lots of details: lace, tulle, pearls, ruffles, sparks, flowers… The list goes on and on. But if you are not into so many glamorous details and you prefer simple details instead of this, vintage wedding dresses are definitely for you. Probably the most known characteristic of vintage wedding dresses is their simplicity. They are very beautiful with too little details. Usually, this detail would be lace and nothing more. Other than that, these are just simple, beautiful bridal gowns combined with simple and colorful flower bouquets in the bride's hand. The simplicity of the vintage wedding dresses is an important characteristic of it. Instead of overshadowing the bride's beauty, they give a big example of how good the bride can look with only a white dress which is simple but more importantly, special.
C. The Sweet Nostalgia
The modern world we live in can be quite stressful. Every day is a challenge for people. We are in the middle of these modern world problems and cannot help but wonder how were things back in then. Since our grand-fathers and grand-mothers always talk about those times, it is not so hard to imagine but we still can't completely empathize with that feeling even though in our inner world, we are longing for it. A vintage themed wedding day is an amazing opportunity to feel this vibe. Wearing a wedding dress which was worn before on somebody's happiest day ever is an unforgettable experience. Carrying the past on you and looking amazing while doing it is a great purpose for the brides that choosing the vintage wedding dresses.
D. Easily Can Get Inspired
While you are choosing a vintage wedding dresses, you can easily get inspired by the wedding dresses around you. Some brides who want to wear a beautiful and unique wedding dress are choosing their mother's even grandmother's wedding dress to wear, of course with some new touches. Re-creating a wedding dress like this is so special because, with this, you are able to wear what your mother wore on their happiest day. It means the wedding dress you are going to wear has a pure history and amazing memories living inside of it. Or sometimes, you can even get inspired by the most iconic wedding dresses in history like Jacqueline Kennedy's or Princess Diana's.
E. Easily Accessible
You may think that finding a good vintage wedding dress is a hard and effortful job to do. We can safely say that you are wrong and there is nothing to worry about it. Vintage wedding dresses are simply can be found and they are easily affordable. If you are going to choose to wear a "real" vintage wedding dress, it is obviously going to be second hand. It makes vintage wedding dresses even easier to find than you think. You can go to a thrift shop near you or you can find it online websites. You can even get your dream wedding dress out of your mother's wardrobe, as we have mentioned previously, and re-create it with small touches. It is clear that finding a vintage wedding dress you like is more straightforward than finding a modern wedding dress you like. Soon as you have your dream bridal gown, it is easy to give them new and modern touches.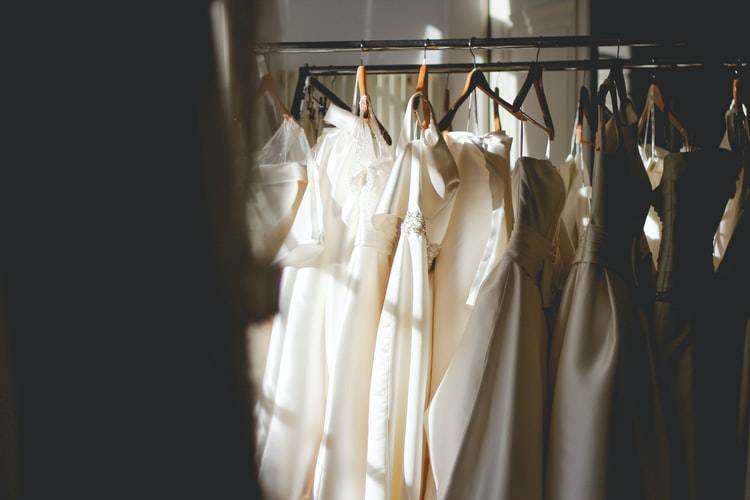 F. Good Alternative
Wedding dresses have wide marketing but they are not usually affordable for everyone. It's a great choice to wear a vintage wedding dress if you don't really want to spend a lot of money for something you are going to wear only once in your life, even for the most special day in your life. Since this kind of bridal gowns are usually second-hand and easily accessible from thrift shops or from a wardrobe of someone you know, you don't really have to spend so much money on it.
G. Combines Perfectly with Nature
Traditional indoor wedding venues are not brides and grooms' first choice in our time. Outdoor wedding venues, mainly which are in warm arms of nature, in a big garden with beautiful greenery or on a beach with peaceful wave sounds are in demand today. If you want to wear your dream bridal gown in such a peaceful venue like this, we must say that vintage wedding dresses combine perfectly with these venues. Thanks to vintage wedding dresses' simplicity, you are going to look like you are out of a fairytale.
Getting married, and picking up your wedding dress is a beautiful experience. Your wedding day should unique, just like your wedding dress. There are plenty of reasons why brides want to wear a vintage wedding dress. Walking down the aisles with pieces of the past with a simple but unique wedding dress on you is an opportunity to please your endless inner longing for the past, the times when everything was so much easier.
Choose Your Vintage Dress According to Your Body Type
So, if you made up your mind already but you are still feeling lost because now, you don't know what kind of vintage wedding dress you should pick, we are here to help you. Thanks to its wide marketing and cheaper prices you can easily choose the exact dress you are going to feel beautiful in it. While doing that, you should choose such a perfect wedding dress that fits your body, so you can feel more beautiful and more confident while you are walking towards the love of your life on your wedding day. And the easiest way to accomplish this feeling is by choosing your vintage wedding dress according to your body type.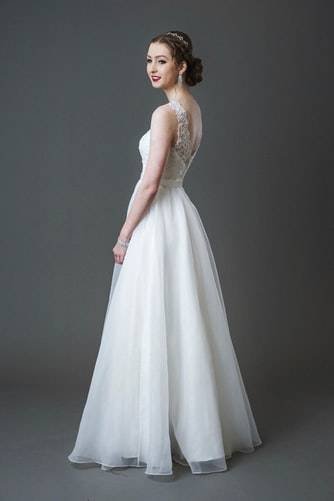 A. Straight Body Type
If you have a straight body type with little body curves, you should avoid choosing a straight and shapeless vintage dress. Your main goal here is to see a curvy body when you are looking to the mirror with a big smile on your face. To create this dream look, you should choose a vintage wedding dress with belt detail or you can choose voluminous dresses like ball gowns. With this kind of dress, you are going to feel like you have the curvy body you always wanted.
B. Pear Body Type
If you have a pear body type with rounded hips and a defined waist, you might want to avoid tight-fitting wedding dresses. Instead, you should choose a vintage wedding dress with a ball gown. For a bride who wants to good perfectly with a dress fits so good on her body, ball gown vintage wedding dresses are amazing because, with this kind of wedding dress, you will be able to disguise your lower body and draw up all attention to your waist and upper body.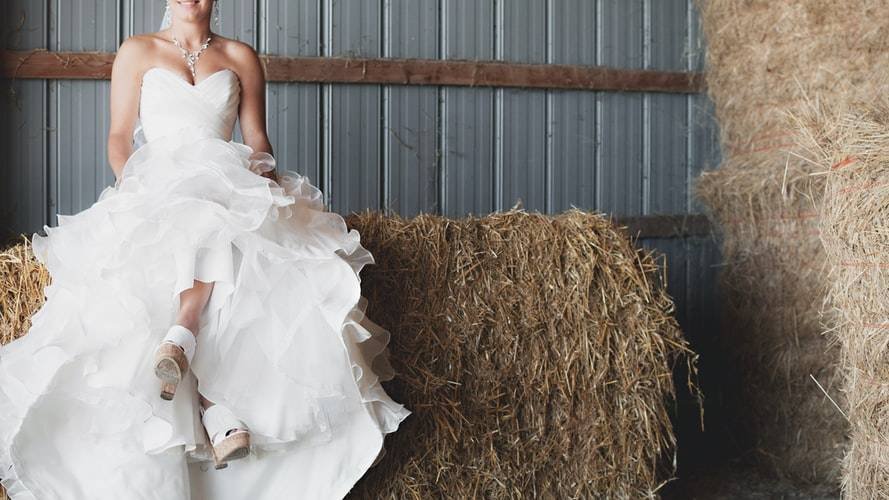 C. Apple Body Type
If you have a lower torso, or your upper body is wider than your lower body, it means you have an apple body type. With this type of body, you should pick an "A-line" wedding dress that is narrow on top and goes slowly wider on the skirt. It will create a longer torso look and highlight your body shape and thanks to that, you will look so beautiful in your wedding dress.
You can check our A line wedding dresses by clicking here.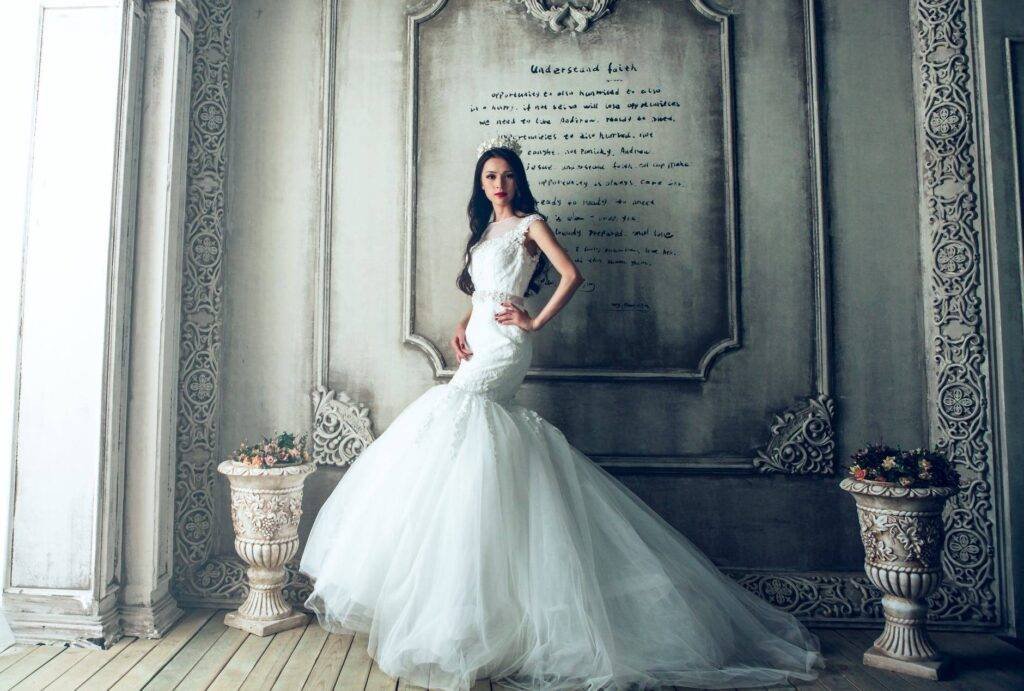 D. Hourglass Body Type
If you have an hourglass body with wide bust, hips that are a similar width to your shoulders, and a defined waist, you should definitely choose a mermaid vintage wedding dress. Mermaid vintage wedding dresses are amazing for you because it will hide your wide bust. By focusing on your narrow waist, you will create a more feminine look on your wedding day.
You can check our mermaid wedding dresses by clicking here.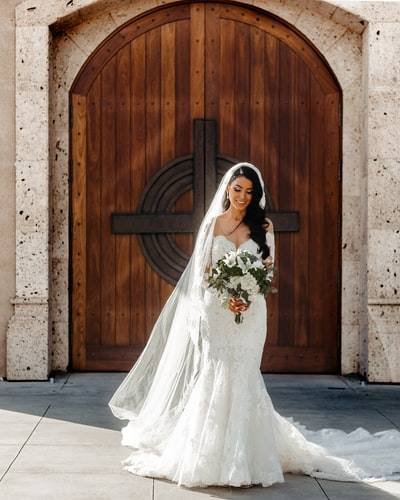 E. Inverted Triangle Body Type
If you have wide shoulders and narrow lower body, it means you have an inverted triangle body. With a trumpet vintage wedding dress, you can hide the narrowness of your lower body. Trumpet wedding dresses are very similar to mermaid wedding dresses and as they do, they will make you feel more feminine. If you have an inverted triangle body, you shouldn't pick up a strapless vintage wedding dress to hide your shoulders but you can choose one with a deep v neckline.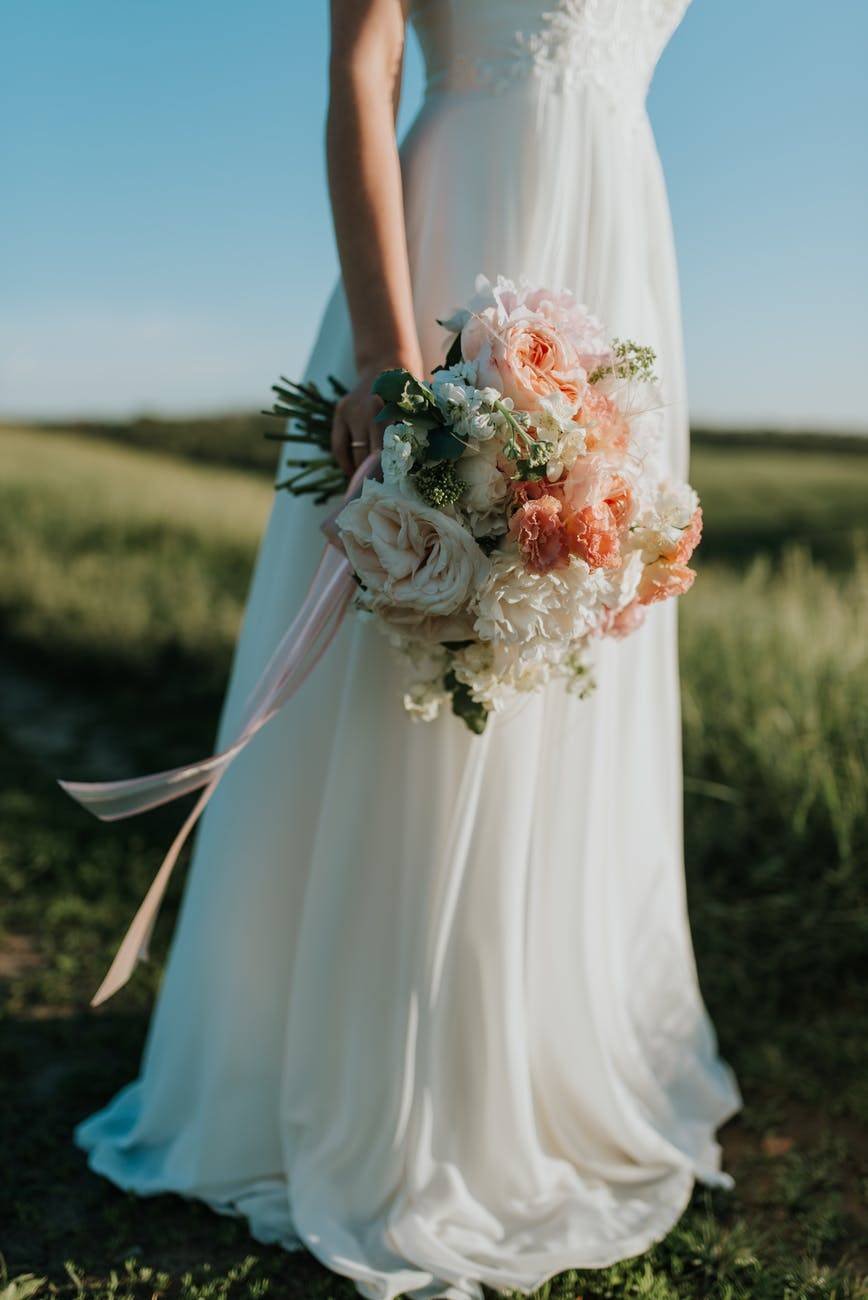 F. Petite Body Type
While choosing your bridal gown, if you have a petite body type, you should avoid bridal gowns with so many details. Thanks to their simplicity, vintage wedding dresses will make you feel like they are cut out for you. When you minimize the details on your bridal gown, you will look taller than you actually are. You should pick a vintage wedding dress with a straight-cut to help you create that look. Since you don't need to show off any details of your body, with a straight-cut dress you can achieve your dream wedding day look.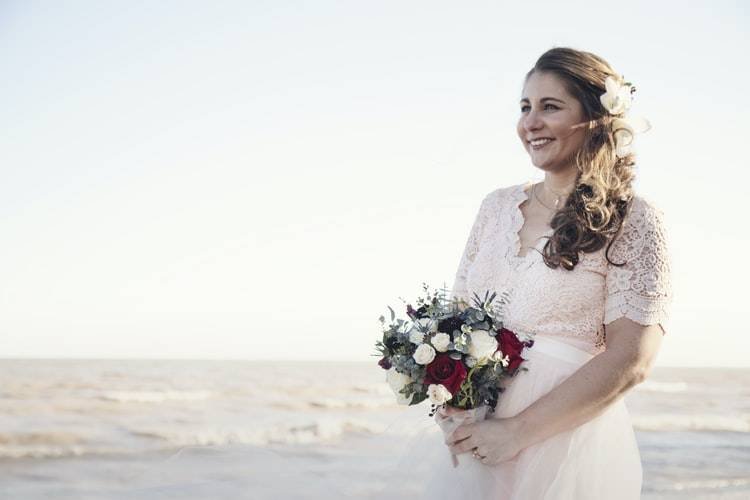 G. Plus-Size Body Type
If you have a plus-size body, you should avoid straight bridal gowns. To create a smaller body look, you should choose a vintage wedding dress with belt detail, or you should choose on that gets narrowed on your waist. With this look, you will create the smaller frame look and will be able to show off your curves at the same time. If you want your bridal gown to be unique, you can choose a two pieced bridal gowns which will look good on you.
Your Dream Will Come True
Picking up a wedding dress according to your body type is an important step to take while you are planning your wedding day. Don't forget that vintage wedding dresses are easily accessible. Even if you find your dream bridal gown but they don't show off the body parts you want it to do, you can fix that with a little help of tailors. Vintage wedding dresses are cheaper than other kinds of wedding dresses, so you can save your budget to re-create that dream bridal gown.
In short, picking up a vintage wedding dress is going to be an experience you will always going to remember. In the future, while you are looking at your wedding pictures you will feel no regret, instead of that, you are going to remember how good you felt in it. Wearing a vintage wedding dress in a modern world is totally unique and it is a simple way to separate yourself as a bride, from other brides.
From the moment, you try on your first vintage wedding dress you are going to notice that you don't have to wear a dress that has so many details, so many laces, tulles, pearls, ruffles to feel so beautiful. You can even get your dream bridal gown by re-creating your mother's bridal gown. Do not forget that vintage wedding dresses have so many memories on them and it what makes them that special.
If you want to carry on your body a vintage wedding dress as you walk on the aisle, you don't have to spend so much time. You are going to see that it will minimize your stress while you are planning your wedding day. You don't have to spend extravagant prices to go back and remember your wedding day. You can select one of our special collections below for your big day and we will help you choose your size and colour for you!
You are going to look so beautiful and feel so beautiful as your groom's loving eyes, and your mother's happy tears. It will feel so right with a wedding dress that looks like it was made for you, with a wedding dress that disguises all the things you see as a flaw on your body and puts your beautiful body details forward.
You grew up by looking at people's wedding dresses and dreaming about your wedding day. On your wedding day, you are going to remember those good old days and it is going to put a beautiful smile on your face. If you pick a wedding dress, this beautiful and sweet nostalgia will double up your happiness, it will bring you a great serenity. You will know you got this right. All the stress and all the bad things are away now. Hug those beautiful feelings and notice how beautiful you look. You made it.